Our

solution
Our statement : 80% of Marketing Intelligence is accessible through Transactionnal Data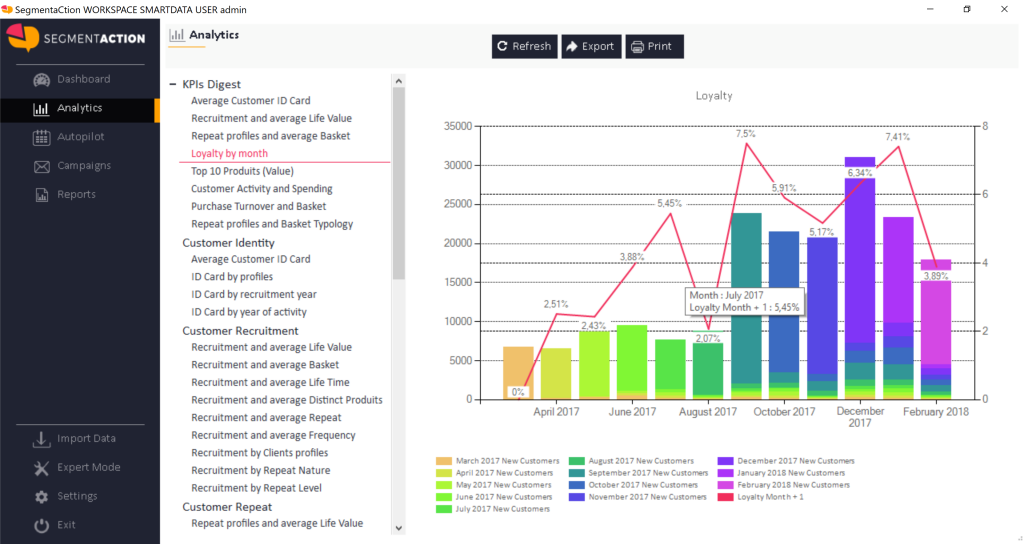 Customer Knowledge Analysis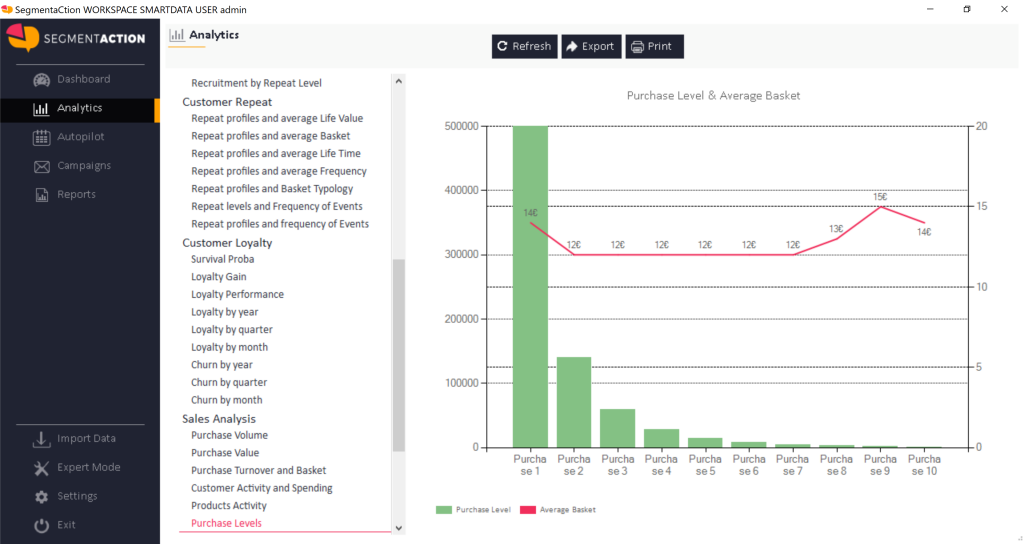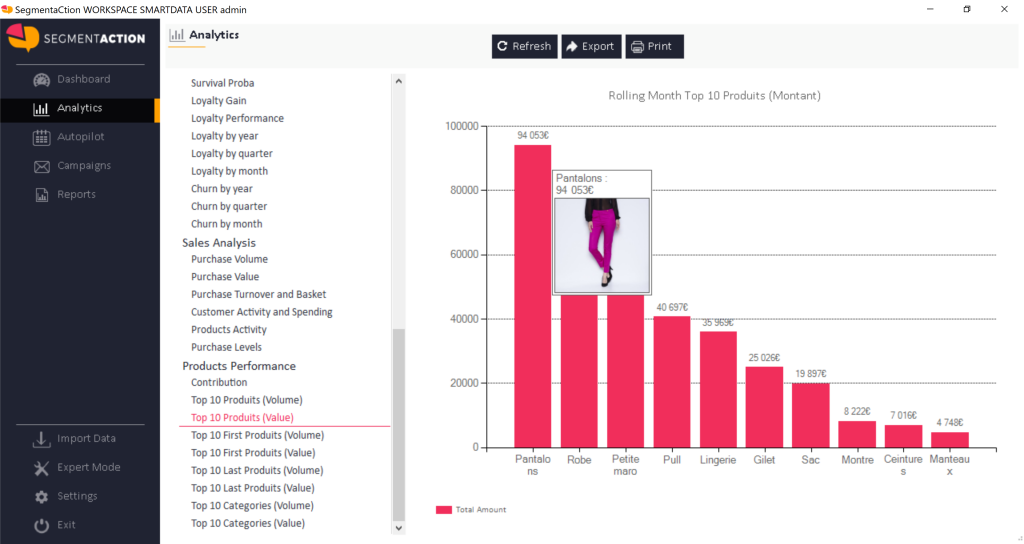 Products Performance Analyse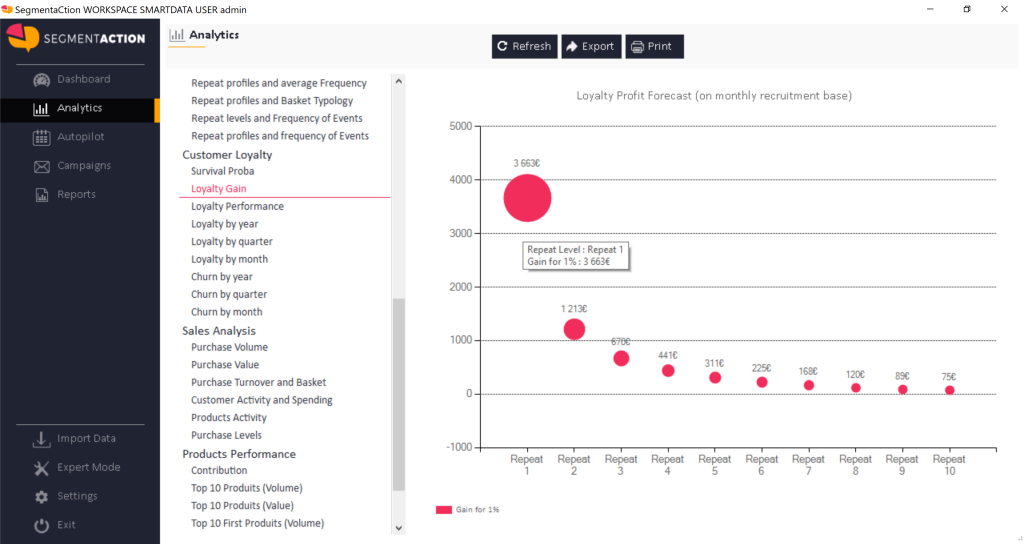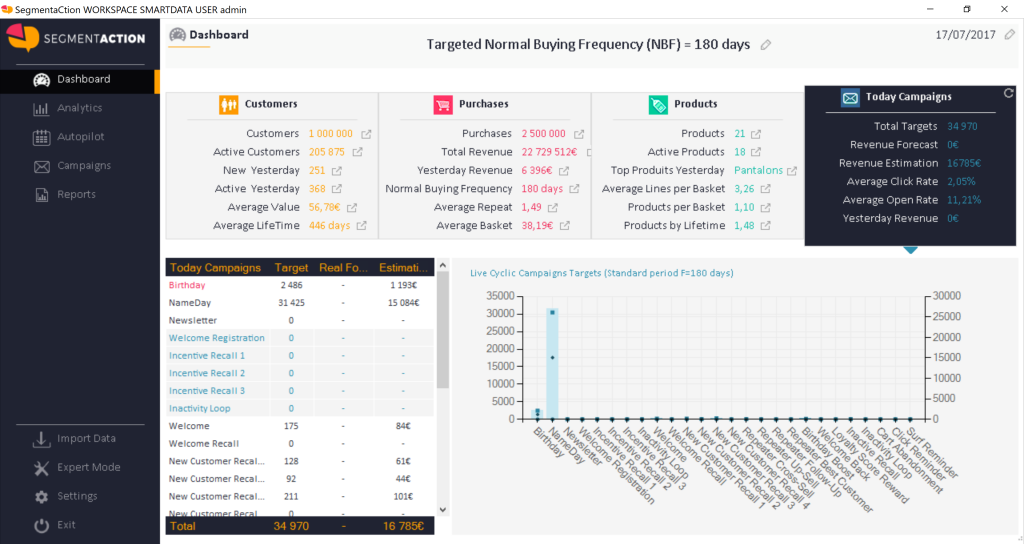 Daily Campaigns Program and ROI Forecast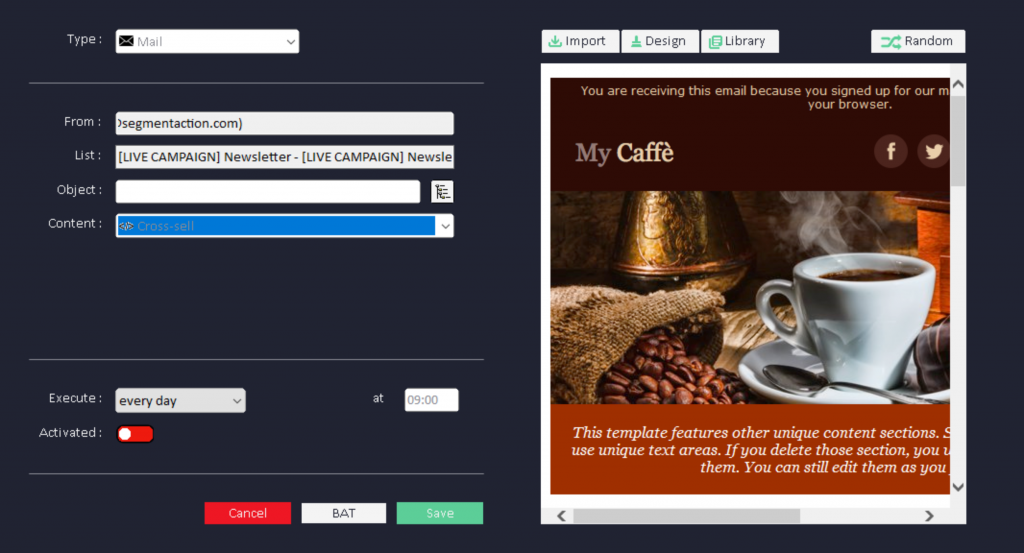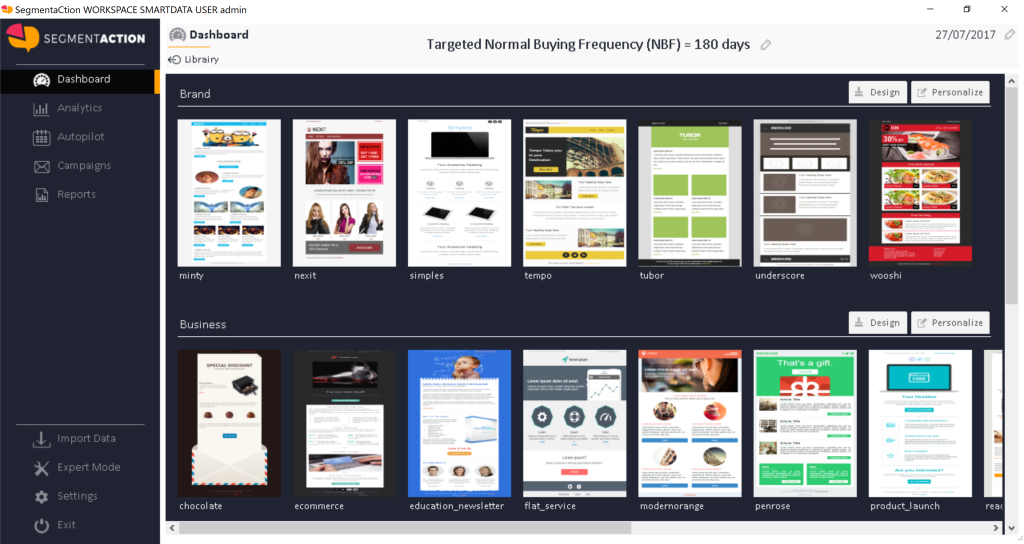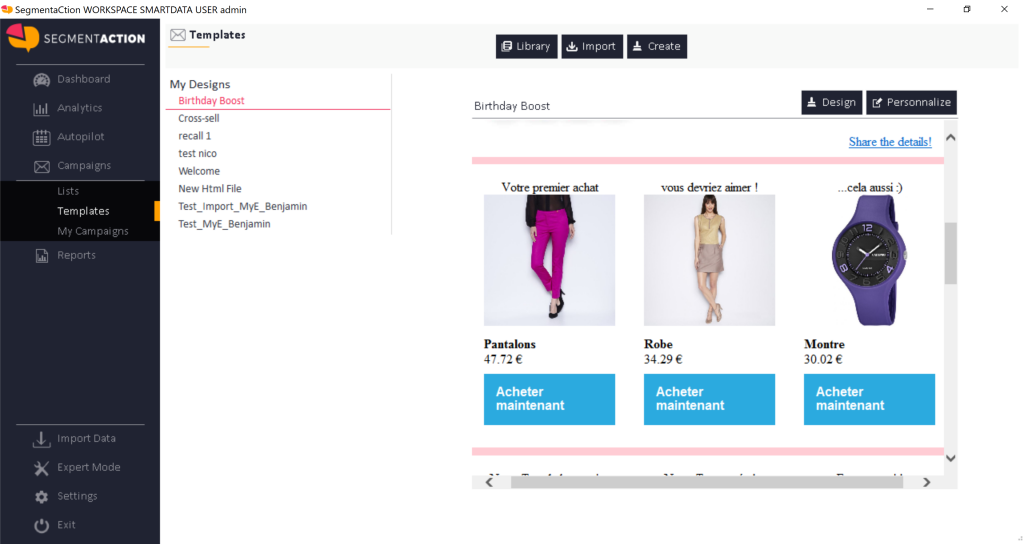 Predictive One-to-One Recommandation Engine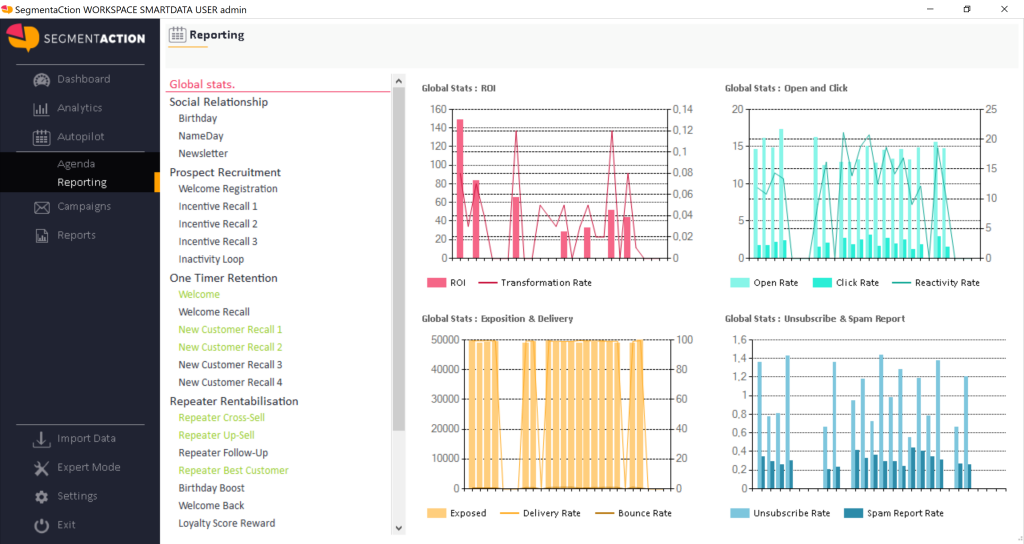 Campaigns Complete Audience Reporting and ROI Tracking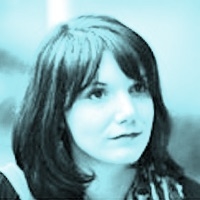 Blandine Chell
Groupe Karavel

Director of strategic marketing
I was looking for a genuine e-mailing customization based on a multiple combination of possibilities, not only  simple thumbnails proposals here and there.
Our customers' data full exploitation  with Segmentaction led us to a 70% subscriber up-value !
Jean-Michel Rothier
Coca-Cola Company

Head of Supply Chain & e-business
Segmentaction is a result-driven solution delivering power and agility.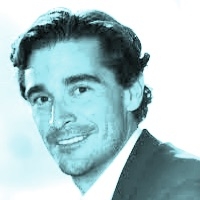 Ronan Dubois
M6 Mobile
CEO
Segmentaction is an efficient and responsive tool for our communication given that we have a 2,500,000-client database and handle 2,000,000 emails and 8,000,000 SMS per month.
Ludovic Bonneton
Groupe Pierre et Vacances

Director of e-commerce
I believe there is no such powerful offer on the market given our huge volumes. This is the best solution to get live market intelligence.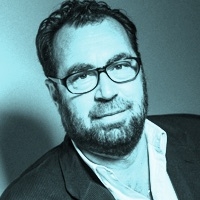 Denis Bastiment
Betnet

Founder & CEO
We chose Segmentaction both for its simplicity and its performance in predictive analysis.

Increase click rates, sales and ROI

boost customer engagement and loyalty

communicate with self generated campaigns

Promote most relevant products
Easily import your transaction data
Get real-time in-depth customer knowledge and marketing intelligence
Send ultra-personalized messages in one click with our live scenarios
Super-fast data integration
Data automatically cleaned and enriched
Loading in our Universal 3D transactional model fitting all industries
Real-time Customers and Sales Analysis KPIs already setup : active, churn, average basket, turnover, best products,…
Self-generated marketing campaigns scenarii you can trigger in one click
Such as : welcome, loyalty incentive, inactives re-engagment,…
Use pre-designed mailing templates with one-to-one intelligent predictive product recommendation
Instantly assess click rates, campaigns ROI and other performance indicators
Reach every channels: Email, SMS, print, social.
Proprietary data management system
Integrated routing technology
Datamining predictive algorithms
Segmentaction is an all-in-one SaaS solution offering in-depth customer knowledge and marketing automation tools using big data and artificial intelligence. With over 10 years of R&D, its proprietary data warehousing engine and predictive algorithms automatically deliver custom-made data-driven marketing campaigns featuring live product recommendations, enabling retailers to boost their customer loyalty and ROI.
Launch of our offer for the middle market and small businesses
Expansion into HTML predictive personalization and other machine learning R&D
Segmentaction becomes a SaaS solution
Expansion into web analytics, datamining and e-marketing intelligence
Company starts as a consulting firm specialized in big data analysis for large corporates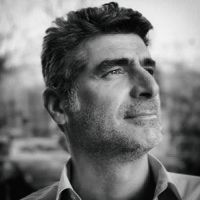 Laurent de la Mettrie
       Founder           & CEO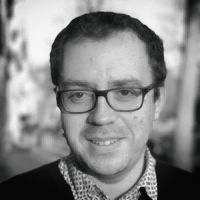 Christophe Demange
         CTO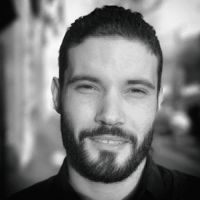 Amine         Harkat
Full-stack developer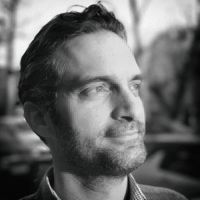 Julien Lefort
VP Business Development